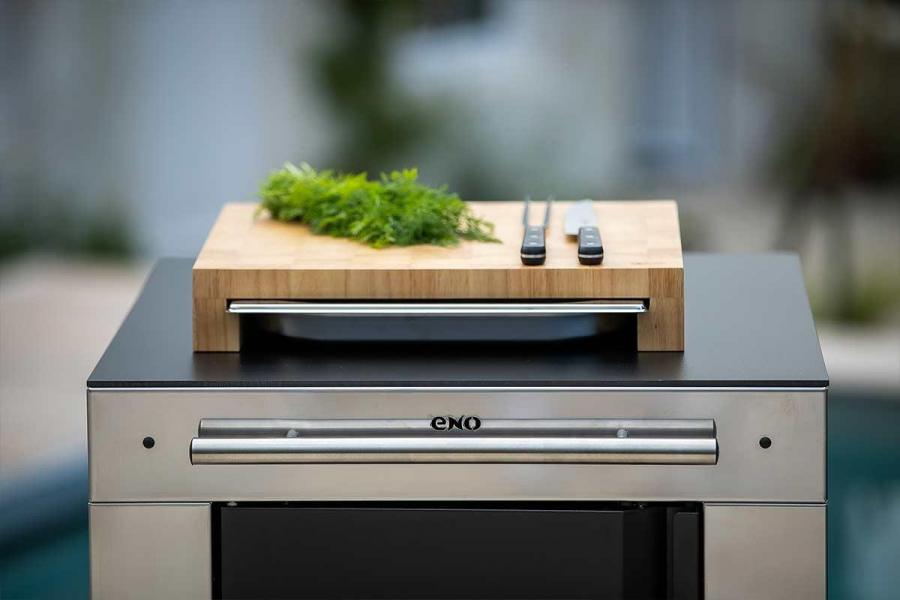 ENO has designed and selected accessories and utensils for use with your plancha, so you can throw a backyard plancha party! These handy tools are also dishwasher-safe.
Setting up
Connection kit, electric* and gas adaptors and gas injectors : An essential part of the gas plancha, the gas hose is designed to stand the test of time, so you won't have to worry about replacing it. Adaptors are available for certain countries. Injectors are also available if you plan to connect your plancha to natural gas. Follow the instructions.
Accessories for getting started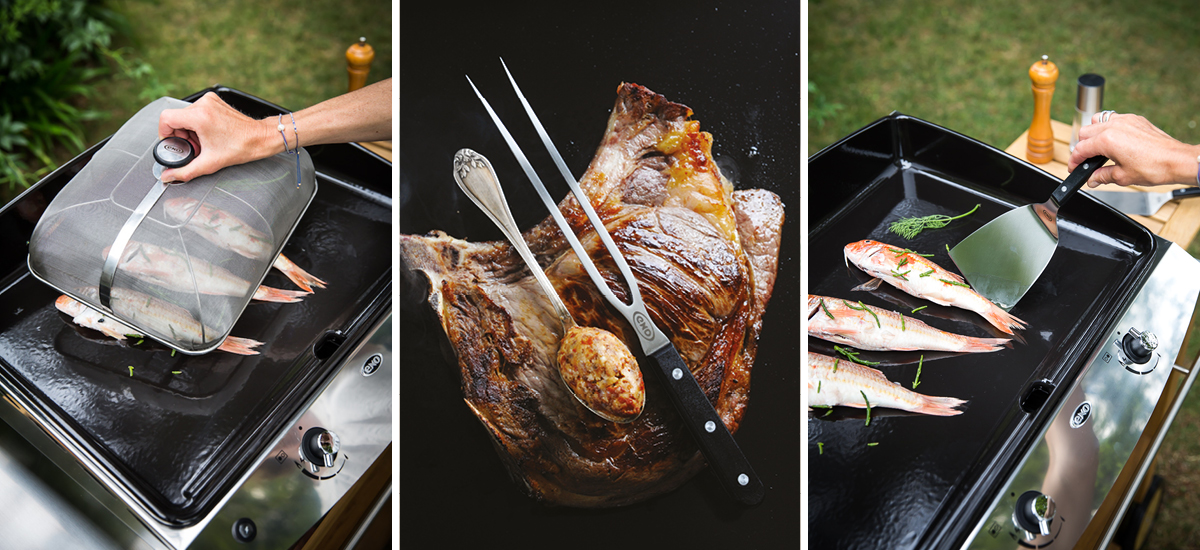 Prep
Apron : To cook in style and stay clean, you'll need an adjustable apron. 100% cotton and easy to wash.
Cookbook : Need some inspiration? Look no further than our cookbook, which is chock full of ideas ranging from appetizers to desert.
Carving set : Our carving set includes a large meat-carving knife and fork to make it easy to slice into your meat.
Cutting board : Designed with raised edges to fit perfectly on your workspace, the reversible board can be used for meat on one side and veggies on the other.
Prep tray : With this ingenious prep tray, you can chop your food on the cutting board and slide them straight into the stainless steel container. Keep everything you need at your fingertips.
Resting grill : Keep your dishes from getting cold before it's time to eat. Rest your meat on the stainless steel resting grill on one side of the hotplate to keep it warm while you cook your veggies. It even has handles so you can bring it straight to the table.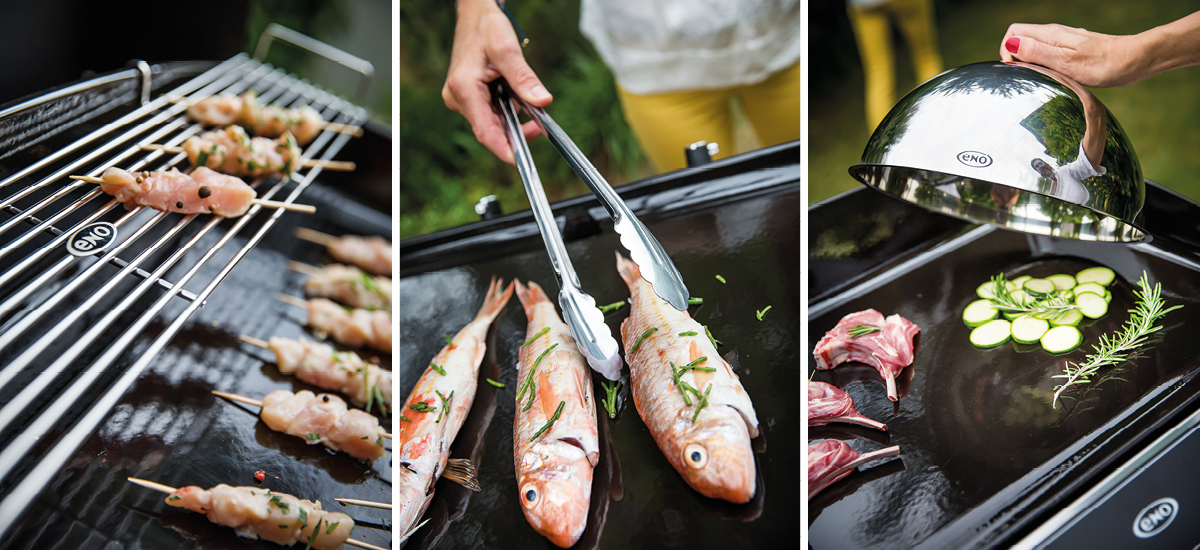 Cook
Spatulas : Practical and functional, these stainless steel spatulas will quickly become your go-to when cooking on the plancha. With our brand-name large spatula, you'll be handling food like a pro as you deftly release it with the spatula's flat edge. You can even rest the spatula directly on the hot plancha since the angled handle won't come into contact with the plate. You can also use it during clean-up to scrape off the remains of any stuck-on food.
The large spatula with its angled handle is the perfect tool for handling larger pieces of food, especially fish, without damaging them.
Some food needs to be handled more carefully : our micro spatulas can be used to flip an over-easy egg, pancakes, small appetizers and any other delicate morsel.
Use our small and large tongs when cooking smaller items. Once the food has been seared, use the tongs to flip small pieces of food, like pineapple chunks, mini skewers, sausages and more.
Chef's kit : Everything you need to cook like a chef: the chef's kit contains the large spatula, large tongs, stainless steel prep tray and cutting board. You can keep everything stored in one spot.
Brush and spray bottle : No need to use oil on the plancha, but once you've cooked your meat or fish, enhance its flavour by brushing on some virgin olive oil or sauce with the silicone brush, or simply give it a quick spray of oil with the spray bottle.
Stainless steel cloche, resting grill and splatter screen: Put the cloche over your meat to accelerate cooking while preserving flavour and juiciness. To steam veggies, pour a few spoonfuls of water on them and cover with the cloche. To cook white meat, sear it on the plancha then place it on the round resting grill before covering it with the cloche. You can also let your rib steak or duck breast rest on the grill before serving it. Say goodbye to splatters with the fine-mesh splatter screen, which will help keep your plancha area clean.
Clean
Large spatula, cleaning kit and plancha cleaner: Clean-up is a breeze when you scrape up food bits with the large spatula and stainless steel scouring pad. Don't forget to use the holder to avoid burning your fingers! When the plancha has cooled down, use the plancha cleaner and microfibre cloth to make it shine like new.
Learn more about the maintenance and cleaning of the plancha
Protect
Covers and lids : Protective lids and covers are available for all plancha and cart models to protect them from the weather. The lid can be used to keep food warm when the plancha is turned off.
*Only available on the European market
2020-05-05 17:05:00
0 viewed